No matter how hard we try to plan for unexpected expenses, life has a way of throwing us curveballs. It's not uncommon to find yourself in a financial emergency at some point.
In situations like these, a payday loan can provide a much-needed lifeline to help you cover your expenses until you get paid. However, if you have bad credit, you may be worried about being approved for a loan. Fortunately, there are options available that don't require a credit check.
By understanding how payday loans work, you can make an informed decision about whether they are the right option for your financial needs.
What Is a Payday Loan?
A payday loan is a short-term loan designed to help people who need quick cash to cover unexpected expenses or emergencies. The loan is typically due on the borrower's next payday, hence the name "payday loan."
Payday loans are often used by people with a poor credit history or who can't access traditional forms of credit such as bank loans or credit cards.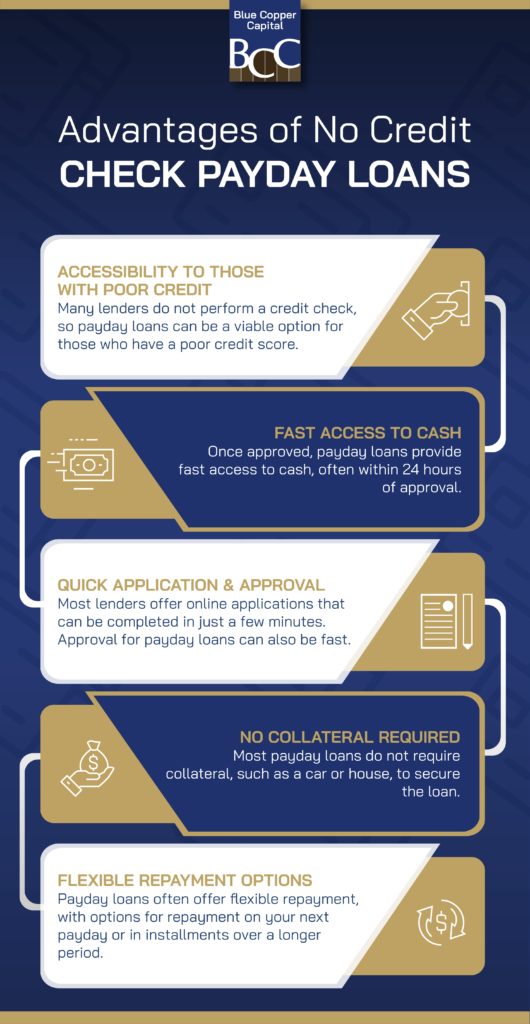 Advantages of Payday Loans
Payday loans offer several advantages for those in need of quick cash. They are readily available and can be obtained quickly without needing a credit check or lengthy application process.
Some of the key benefits of payday loans include:
Accessibility to those with poor credit history: Many lenders don't perform a credit check during the application process. This makes payday loans a viable option for those who have been turned down for loans from traditional financial institutions because of their credit score or history.
Quick application and approval process: The application process for payday loans is typically quick and easy, with most lenders offering online applications that can be completed in just a few minutes. Approval for payday loans can also be fast, with some lenders providing instant decisions on loan applications.
Fast access to cash: Once approved, payday loans provide fast access to cash, often within minutes of approval. This makes payday loans a good option for those who need money quickly to cover unexpected expenses or emergencies.
No collateral required: Payday loans don't require collateral, such as a car or house, to secure the loan.
Flexible repayment options: Payday loans often offer flexible repayment options, allowing borrowers to repay the loan in full on their next payday or in installments over a longer period.
Possible Risks of Payday Loans
While there are many advantages to payday loans, it's important to be aware of their potential risks. One risk is the interest rate that comes with a payday loan. Because these loans are typically paid back quickly, the annual percentage rate (APR) is high.
Interest Rates for Payday Loans
In Canada, the interest rates for payday loans are regulated by each province and territory. The maximum allowable cost of borrowing, which includes interest rates and fees, varies depending on the location.
However, in general, payday loans in Canada come with interest rates ranging from 15% to 25% of the loan amount per 2-week period, translating to an APR of around 390% to 650 %. If a borrower takes out a $500 payday loan in Alberta, the maximum fee they could be charged is $75 for a 2-week loan.
How Do You Get a Payday Loan?
To get a payday loan, you typically need to provide proof of income and complete your lender's requirements. The term of the loan is between 42 and 62 days in Alberta. Check your province or state for their regulations.
Requirements for Payday Loans
The requirements for payday loans may vary depending on the lender and the province or territory where the borrower is located. In general, the following requirements are common:
Employment income: You will typically need to have been employed by your current employer for at least 90 days to qualify. You may be required to provide copies of your current and previous pay stubs.
Bank account: Borrowers must have an active bank account in good standing, as most lenders require borrowers to authorize electronic withdrawals from their bank accounts.
ID: To be eligible for a loan, you must be 18 years old or older at the time of your application. You may need to provide 2 valid government-issued IDs, one of which should be a photo ID.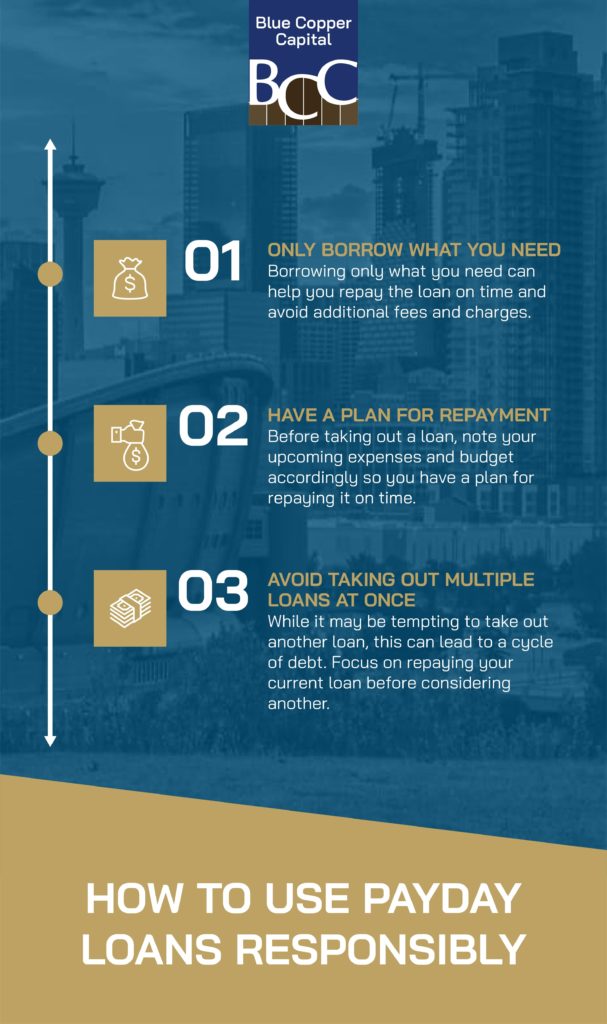 How to Use Payday Loans Responsibly
Credit check payday loans can provide financial assistance when you need it most, and it's possible to do so responsibly. To help you make the most of this option, here are some tips for using payday loans:
Only borrow what you need. While it may be tempting to borrow more than you actually need, this can lead to more debt and higher interest fees. Borrowing only what you need at the time can help ensure you repay the loan on time and avoid additional fees and charges.
Have a repayment plan. Before taking out a payday loan, make sure you have a plan. This includes considering your upcoming expenses and budgeting accordingly so you have enough money to repay the loan without causing financial strain.
Avoid taking out multiple loans at once. While it may be tempting to take out another loan to cover the first one, this can lead to a cycle of debt that can be difficult to break. Instead, focus on repaying your current loan before considering another loan.
By following these tips and using payday loans responsibly, you can get the financial assistance you need without falling into a cycle of debt.
Do Payday Loans Affect Your Credit Score?
Taking out a payday loan and repaying it on time will generally not impact your credit score. However, if you are unable to repay the loan on time or miss payments, this could negatively impact your credit score.
Borrowers should aim to repay their loans on time and in full to avoid damaging their credit scores and being subject to additional fees and charges.
Are Payday Loans a Good Option for You?
No credit check payday loans can provide a fast and convenient way to get the financial assistance you need, especially when traditional lending options are unavailable.
With Blue Copper Capital, you can rest assured that you're working with a trusted lender who can understand your unique needs. Whether you have questions about our services or need assistance with your application, we're here to help. You can reach out to us through our online chat, view our FAQs, or give us a call.