Are Payday Loans Bad?
Payday loans definitely have a reputation. Compared to other loan options, like lines of credit or personal loans, payday loans have the highest interest.
That said, payday loans can be a way to get a small amount of cash quickly for emergency expenses. As long as you understand your loan and are getting it from a reputable lender, payday loans aren't all bad.
What Are Payday Loans?
Payday loans are exactly what the name implies. They're essentially an advance on your pay cheque, but they're provided by a lender and not your employer.
Payday loans are small, high interest, short-term loans. Rules vary by province, but in Alberta and British Columbia, that means:
You can only borrow a maximum of $1,500
You must pay the loan back within your next 3 pay dates or 42 to 62 days
You can pay up to $15 interest for every $100 borrowed
You can't pay in instalments; you must repay the loan in full
Because of the strict terms and cost of borrowing, payday loans should only be used in very specific circumstances.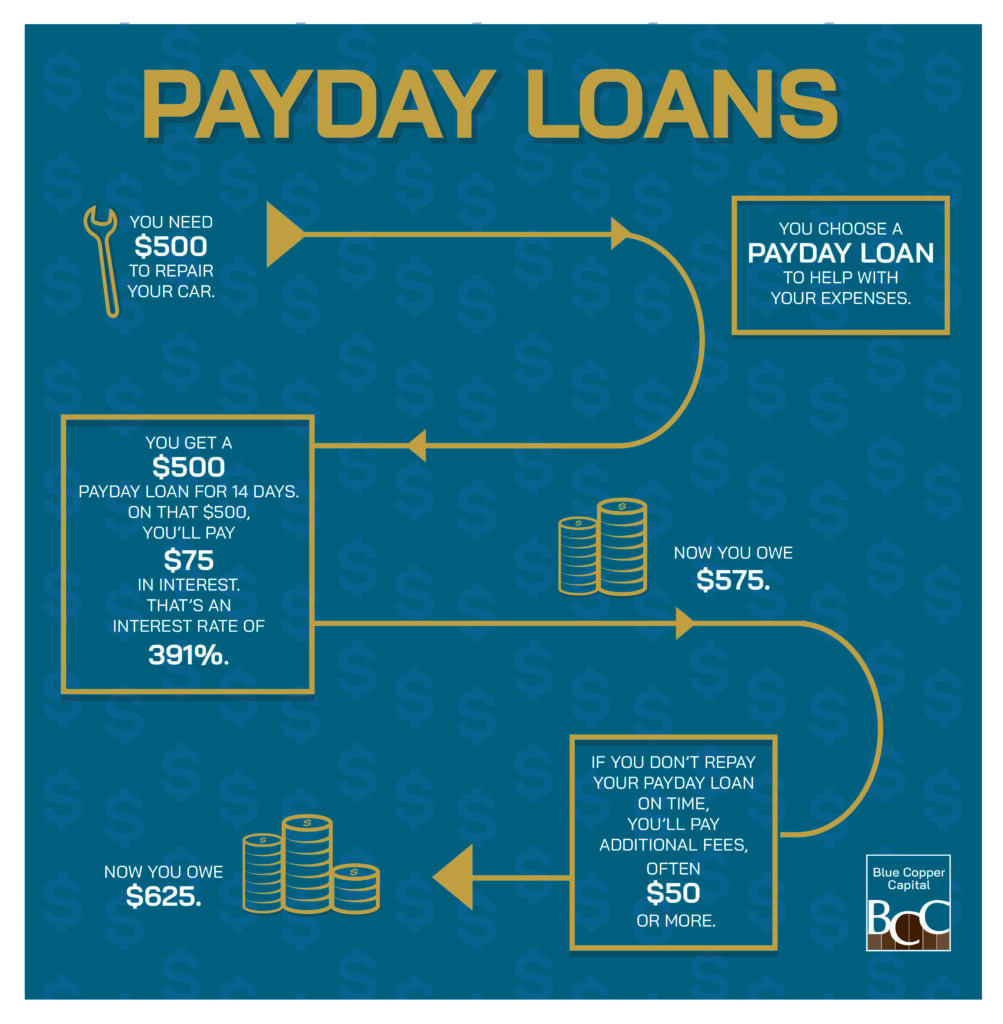 When Should I Get a Payday Loan?
Payday loans should only be used in emergencies. For example, if you need to repair your car but can't wait until your next pay cheque because you need your car to get to work.
If you find yourself needing payday loans regularly, you'll end up paying a lot of interest. Some other methods of borrowing money to consider include:
These types of loans typically have much lower interest rates and more flexible repayment terms than payday loans. However, these alternatives often require a credit check and collateral (like a house or car).
If you have poor credit or don't have time to wait for a credit check, then a payday loan can help you make it to your next payday.
Remember, you should only get a payday loan if you know you can pay it back with your next pay cheque. Legally, loan providers cannot extend or roll-over payday loans.
And if you don't pay on time, you'll end up paying more interest and other fees.
How Much Interest Will I Pay?
You have up to 62 days to repay your payday loan in Alberta and BC. Generally, payday loans are paid back on your next 3 pay cheques during a period of 42 to 62 days. The longer you take, the more interest you'll pay.
The maximum interest rate is $15 per $100 lent (in Alberta and BC).
Example: On a $500 payday loan, the maximum interest you will pay is $75. If you borrow this money for 14 days, that's an interest rate of 391%.
If you miss the repayment deadline, you'll be charged more interest. Many loan providers charge additional fees for late payments and overdrawn accounts as well.
What Happens if I Don't Repay My Loan on Time?
If you don't repay your loan on time, you will owe even more money. Your lender may:
Charge additional interest
Charge a fee for not having money in your account (your bank may also charge you a fee, often called an "overdraft" fee)
Charge you a late payment fee/penalty
Contact you or your employer, friends, and family*
Contact a collection agency, which will negatively impact your credit
Sue you
Seize your property
Take you to court and have the money owed taken directly from your pay cheques (also known as garnishing your wages)
All this to say, if you don't pay on time, the total amount you owe will continue to increase.
*Most provinces have rules about how often lenders can contact you and what they can say. You can find regulations specific to your province here.
The Payday Loan Cycle
Often, this is how people end up in a payday loan cycle.
They take out the first payday loan, but when they can't pay it, they take out another payday loan to repay the first, then the second, and so on.
When it's all said and done, you owe significant amounts of interest, making it harder and harder to pay off your loans. That's why it's important to only take out a payday loan if you know you can repay it with your next pay cheque.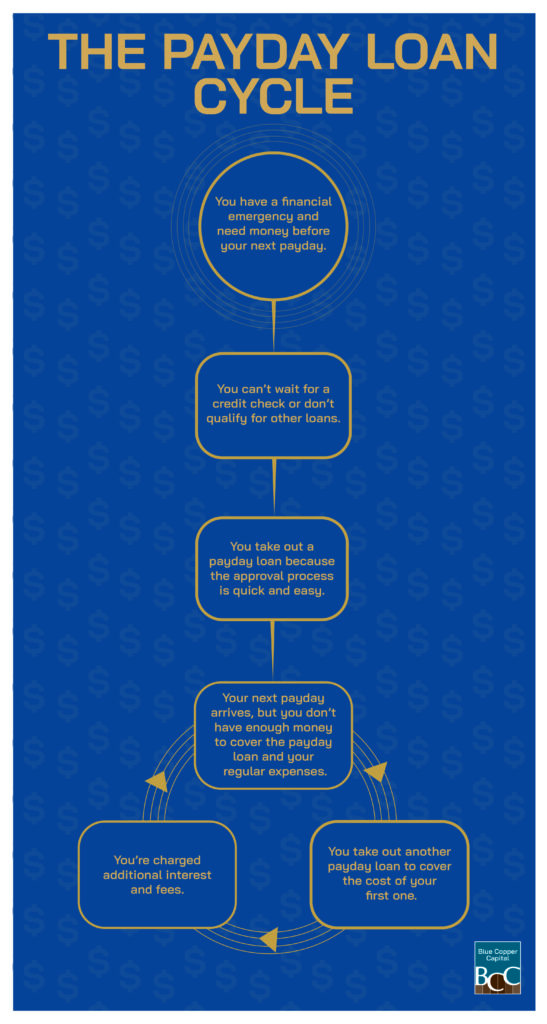 If you find yourself stuck in a payday loan cycle, talk to your loan provider about a solution like a line of credit.
What Else to Expect
Requirements for a Payday Loan
Rules vary by province and lender, so make sure you ask your loan provider what is required. For the most part, payday loans require:
Regular income: Some lenders may require this to be employment income, but some will give you a payday loan if you're on government assistance like EI, CERB, or disability. Typically, you must have at least 90 days of payment history.
Bank account: Most lenders will deposit your payday loan directly into your chequing account.
Pre-authorized debit information: This will allow your lender to automatically withdraw the amount of your loan, plus interest, when it's due. Some lenders also accept a post-dated cheque, which doesn't allow your lender to withdraw money automatically.
Other information to verify your identity: This includes things like your permanent address and photo ID. You must also be over 18 to apply for a payday loan.
Explore Your Options
Payday loans are often the most expensive way to borrow money, with interest rates of up to 600%. Other methods of short-term borrowing typically have interest rates between 8% and 25%.
Some other borrowing methods to consider include:
Line of credit
Overdraft protection
Cash advance on your credit card
You may also be able to:
Negotiate the amount owed or due date for bills
Cash in vacation days or get a pay advance from your employer
Ask your loan provider about their options like personal loans and lines of credit
A good loan provider should fully explain your options and help you choose a loan that is best for you.
Choose the Right Loan Provider
An ethical provider should have no problem fully explaining your loan and answering your questions. Your provider should also clearly state the interest rate, fees, penalties, and terms. If not, get a loan somewhere else.
Many loan providers also operate online. It's safest to choose a loan provider in Canada, ideally in your province or territory.
Finally, make sure your provider is licensed and has a specific Payday Loan License.
This article covers payday loan rules for Alberta and British Columbia. For information specific to different provinces and territories, visit the Government of Canada website.