When expenses arise, you might be among the many Canadians who find themselves in need of a loan. Maybe you've run into an unexpected expenditure like a car repair, a broken refrigerator, or a chipped tooth. Perhaps you're planning a home renovation, want to go back to school, or are looking to vacation as travel restrictions ease.
It can be stressful to not have the cash you need. There are several types of loan products available to fund your emergency or your dream.
Both payday loans and lines of credit can help you get through those times when you come up a little short. But which option is better? The answer isn't always so straightforward.
First, we'll have to learn a little more about these two common types of loans and dive deeper into their pros and cons. An ethical lender can help you make the right decision for your unique situation.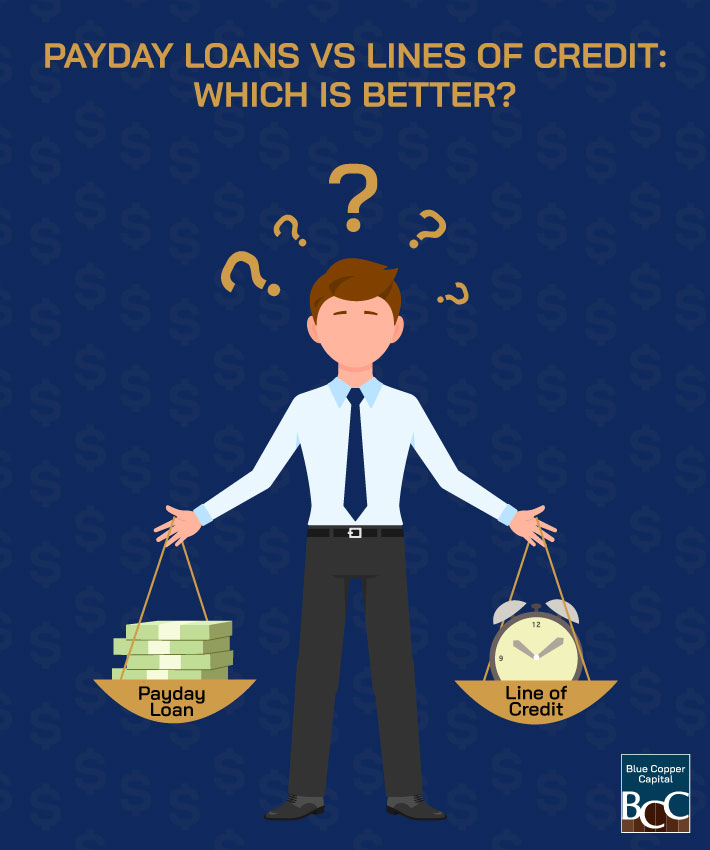 What Is a Payday Loan?
A payday advance is a short-term loan product. It's kind of like getting a cash advance on your pay cheque.
They are generally fairly easy to obtain. There's no credit check in most cases, but you will need to provide proof of employment and meet some conditions like a minimum length of time at your current job.
You may also need some previous pay stubs and you'll definitely need 2 pieces of current, government-issued ID.
When Is a Payday Loan the Best Option?
If you need cash in a hurry, a payday loan can be a lifesaver. Unexpected expenses and emergencies often can't wait and payday loans can provide you funds on the day you apply.
Since there's rarely a credit check, a payday loan is a helpful option for people with a less-than-ideal credit rating.
Payday advances generally come with strict terms and conditions and high penalties if you can't meet the repayment schedule. So payday loans are best for those who know their need is short-term and are confident in their ability to pay the money back on time.
The Cons of Payday Loans
No matter how good your credit rating is, there are limits to the amount of money you're able to borrow through a payday loan. Based on jurisdiction, either through lender guidelines or regulations, it is rare to receive more than 50% of your net pay on a payday loan, which can be limiting for some borrowers.
Even if you're a high-income earner, the maximum amount you'll be able to qualify for with a payday loan is $1,500. They also come with higher interest rates than other loan products.
While a payday loan is great as a once or twice per year option, be careful. With the high rates, you want to ensure you can pay it back. It can be all too easy to get caught up in a cycle of taking multiple payday loans from many lenders only to use them to pay back other lenders.
What Is a Line of Credit?
Lines of credit are flexible loan products that give you access to funds on a regular basis. They operate like a credit card—but without having to carry a card around.
When Is a Line of Credit the Best Option?
Lines of credit are great when you want more control over your borrowing situation. You get approved for the amount you qualify for, then you have instant access to those funds whenever you need them, be it today or 6 months from now.
The flexibility offered by a line of credit is unlike any other loan product. You use what you need, when you need it.
Much higher amounts are available than with a payday loan and the repayment is like a credit card. The interest and maintenance fee is due monthly and any extra payments are all applied to the principal.
And, when you pay the money back, it's available to use again, over and over. With great repayment history, you'll be able to keep your line of credit open as long as you like.
Paying back your line of credit on time might also improve your credit score — 35% of your credit score comes from your payment history. Because you can keep your line of credit open for years, your payment history keeps building. So if you're someone in need of a credit rating boost, a line of credit could help.
The Cons of Lines of Credit
With their lower interest rates, lines of credit might be more difficult to qualify for than payday loans. You'll need a decent credit score, provable income, and it helps to have a prior relationship with your lender.
Lines of credit provide borrowers with recurring access to funds. With easy access, you might be tempted to spend more than you need. If you only make the minimum payment, you'll never pay your principal down.
Lenders like Blue Copper Capital offer money management consultations and help provide you with the financial education you didn't get in school. That way, you'll know how your spending impacts your financial future.
The Best Option Is the one That Fits Your Needs
So, what's ultimately better? A payday loan? A line of credit? The answer depends on your unique situation and needs.
For quick, one-off situations, a payday loan might be your best bet. If you're in need of a longer-term financial solution, a line of credit could be the route for you.
When you find yourself in need of funds, the most important thing is to seek out an ethical lender. Find one who treats you like an individual and takes a holistic view of your circumstances.
A quality lender will be able to explain the terms of conditions of all of their loan products and recommend the best one for you.