More than 50% of Canadians live paycheque to paycheque. When unexpected expenses arise, there's often nowhere to turn.
Whether you have a flat tire, a refrigerator that suddenly needs repair, or you've just stepped on your glasses, any number of items that weren't in your budget can cause financial hardship. Sometimes, you just need a short-term solution and access to emergency funds right away.
A payday advance can give you the funds you need almost immediately. If you've got a short-term money emergency, read on to discover the best ways to get a payday advance.
What Is a Payday Advance?
A payday advance is a short-term loan product. Think of it like cash advancing your pay cheque, except it's not your employer who gives you the funds, it's a lender instead.
When compared with personal loans or lines of credit, payday loans have the highest interest rates. There are regulations governing payday advances, depending on the jurisdiction you're borrowing in.
In Alberta and British Columbia, a payday advance can't exceed 50% of your last pay cheque. Regardless of income level though, the maximum amount you can get as part of a payday advance is $1,500. Your lender likely won't provide the maximum amount unless you have a prior relationship with them and a good repayment history.
Payday advances generally come with strict terms and conditions and a high cost of borrowing. That being said, in an emergency situation, a payday advance can be a real lifeline.

How Do I Get a Payday Advance?
For most payday loans, there's no credit check involved. You will need to provide proof of employment and in most cases, you'll have to be working at your current job for at least 90 days. Current and previous pay stubs either in digital or print format might need to be provided.
To qualify for a payday advance, you must be over the age of 18. Two pieces of government-issued ID will need to be provided to prove your age, one of which should be photo ID.
Your banking history will also be reviewed in most cases and you'll need a pre-authorized debit agreement in order to repay the funds.
Payday advance applications are generally quick and easy, as long as you know what information you need to have on hand. Applications can generally be completed over the phone, online, or in person.
Aren't Payday Advances Bad?
Payday advances have a reputation for high interest rates. You may also have heard about the payday loan cycle, where borrowers are consistently using payday advances to pay bills or buy groceries. This cycle is one you want to avoid, and an ethical lender can provide other options for you.
In Alberta, the cost of borrowing is a maximum of $15 per every $100 borrowed. Your interest rate may vary depending on the individual terms and conditions of your loan. In British Columbia, lenders can charge $17 for every $100 borrowed.
Payday advances often don't impact your credit score, which is great for people who need access to funds but don't qualify through traditional means. For those who are rebuilding their credit or have poor credit history due to past financial difficulties, a payday loan can provide much-needed relief.
A payday advance can be the difference between fixing your car or repairing your dishwasher right away, or waiting until you get your pay cheque.
If you don't repay your payday advance on time, you might be subject to fees and penalties. This makes an already high cost of borrowing almost unmanageable, so make sure to meet your payment deadlines.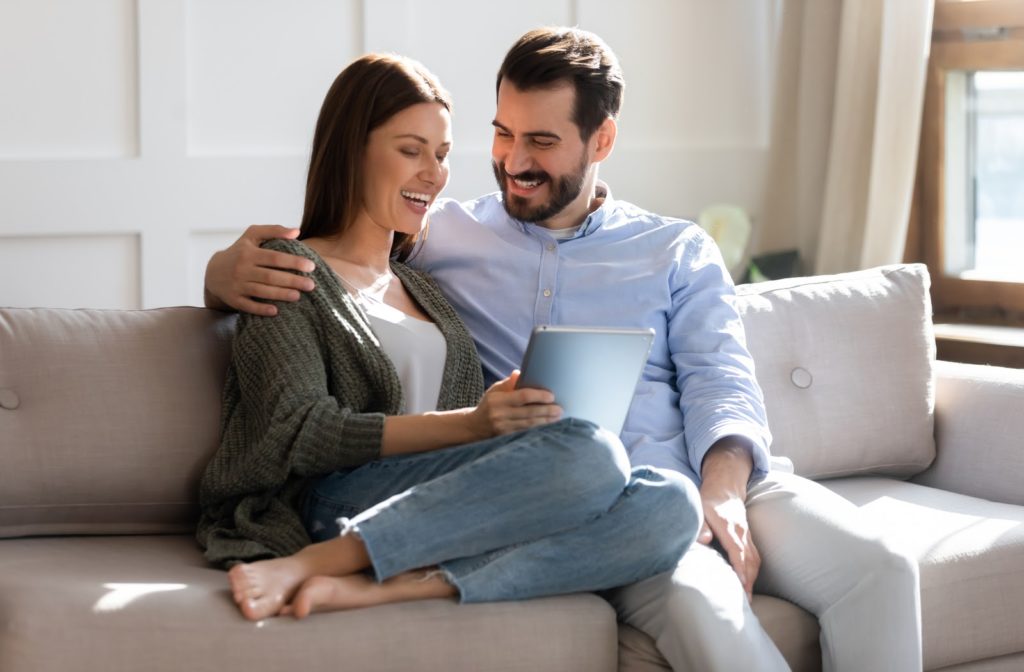 Consider Other Options
While there's no limit to the number of payday advances you can get in a year, they're only intended as short-term solutions. If you find yourself in need of a payday advance on several occasions, you might want to consider longer-term lending options. Payday advances have a higher cost of borrowing, so look for a solution that has lower interest rates.
Getting payday loans more than 3 times in a year is probably a good indicator that you need to look for another solution to manage your money.
Lines of credit and personal loans are better options for long-term borrowing. If you're someone with a less-than-ideal credit score, there are still lenders who can help out with these lower-interest options, particularly if you have a history of repaying your payday advances on time!
Choose The Right Lender
It's important to choose an ethical lender who will treat you like more than just a number. The right lender will look at your application holistically and consider the person behind the loan. They'll ask questions and try to help you.
An ethical lender will be up front about the application process, interest rates, and terms and conditions of the loan. If you have questions that aren't being answered, find a new lender.
You should also make sure that your lender has the appropriate license for the province in which they're lending.
Get Some Advice
You should be in control of your finances — they shouldn't control you. If you're struggling with money and don't know what to do about it, it's probably time for you to take some steps to rectify your financial situation.
Learn to make a budget, and build some emergency savings. Take an honest look at the money that's coming in and evaluate any gaps between your earnings and your spending. Join a group that provides educational resources and money management tools and information.
Make Good Choices
While payday advances do have a bad reputation for their high interest rates, they're only intended as short-term, one-off, emergency situations. If you find yourself in need of additional funds in the long-term, talk with your lender about solutions to meet your needs.

This article covers payday loan rules for Alberta and British Columbia. For information specific to different provinces and territories, visit the Government of Canada website.